Anti-Spam Solutions: ITS Mail Guard
Is spam taking over your inbox? Unsolicited commercial e-mail (UCE, or spam) has become a terrible problem. It wastes everyone's time and greatly reduces the efficiency of e-mail, making it difficult to use and easy to miss important messages. Our ITS Mail Guard service blocked an average of over 600 spam messages per user in March 2013, while virus activity has skyrocketed since fall 2012.
All of ITS's web hosting plans, like most others, already offer free automatic detection of e-mail viruses and protection against known spammers. While these techniques block 80% to 90% or more of spam, it is the final few percent that are progressively more difficult to detect and filter out.
Unsolicited Customer Comments
"This is unbelievable!"

"ITS Mail Guard saves me 20 minutes a day...at least!"

"Thank you, thank you, thank you!"

"It is beautiful.... No spam!!!!"

"I gotta tell you - everybody loves ITS Mail Guard!"

"It is an amazingly accurate program. We can't imagine a better product..."
ITS Mail Guard - The Complete Solution
ITS Mail Guard combines the convenience of a client-side solution with the "always on," zero footprint approach of a fully managed, server-based system. It even works for businesses running their own mail server in-house, such as Microsoft Exchange (we found it is much better than Exchange's spam filtering). ITS Mail Guard can also provide outbound encryption, content filtering, and message archiving for periods of up to nine years!
A simple analysis indicates terrific productivity savings from a quality anti-spam solution:
ITS Mail Guard is available for a very low per user cost, and your firm reaps the productivity increase, putting this savings towards your bottom line. Our 30-day free trial period means there is no risk to you! Unlike other filtering solutions, ITS Mail Guard features include:
Free Trial of ITS Mail Guard!
Highly accurate from day 1
Zero configuration by employees
Takes up zero space and processing time on your computers - nothing to install
Eliminates spam, viruses, and phishing messages
- junk mail never reaches your inbox
Automatic daily summary of quarantined messages delivered via e-mail (sender, subject, date, with option to deliver)
Works with any operating system (Windows, MacOS, Unix, etc.) or e-mail program
Per user configuration for aggressiveness towards different types of spam
Personal and companywide blacklists and whitelists of blocked and approved senders
Quarantined mail saved for 14 days in case users need to recover a message
Works even if your e-mail and/or web site is not hosted by ITS
Works very well with Microsoft Exchange (greatly reduces the load on in-house mail servers and the office Internet connection)
Comparatively empty mailboxes mean e-mail is faster to download or read online
Uses a complete solution of content filtering, real-time connection pattern (attack) analysis, blacklists, whitelists, and heuristical analysis
Optionally, ITS can provide a redundant backup to an in-house mail server: if the office Internet connection should ever fail, mail will be spooled by ITS Mail Guard until your server comes back online
Industrial class virus detection engines are updated every 60 seconds to catch new e-mail viruses faster (Gold level provides additional virus scanning engines)
Easy To Use
ITS Mail Guard works by scanning incoming mail, with messages classified as spam quarantined by the service. Users can log in to review quarantined e-mail, and there is a daily summary e-mail of all quarantined messages. If necessary, users simply click an entry to override ITS Mail Guard and "release" a message for delivery. This way users checking e-mail on their Blackberry or via WebMail do not have to sort through dozens of spam messages...just a summary or two.
There is nothing to install on any of your PCs...once activated, ITS Mail Guard simply starts working, protecting your e-mail.
How It Works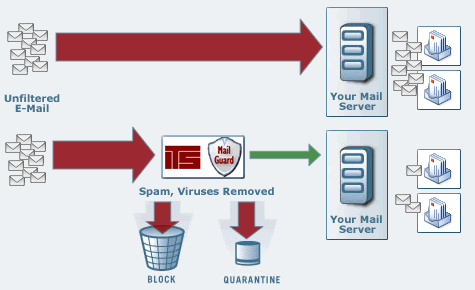 ITS Mail Guard fits between your current mail server and the Internet, protecting all incoming mail from spam, viruses, phishing messages, and other e-mail threats.
Client-Side Solutions
Client-side software is installed on each user's computer. Client-side solutions like K9 can become very accurate, but still require users to configure their e-mail client, train the program, and check the program periodically to correct any mistakes lest it do a poor job of "learning." ITS can of course help with the initial setup of these programs.
However, even K9 cannot scan what it does not see. Road warriors that frequently use web-based e-mail or other devices such as a Blackberry, Palm, or laptop to check e-mail from the road will not benefit from a program like K9 running on their office PC.
Server-Side Solutions
Server-side software runs on a customer's mail server. Before ITS Mail Guard, we favored client-side spam detection because server-side solutions were difficult to manage. Users would have to remember to log in to a web-based interface to check spam messages (to make sure no "good" mail was accidentally sorted out) and manually clear out a "spam" or "junk" folder to avoid using up their mailbox disk quota. Thankfully ITS Mail Guard makes managing spam much easier.