Phone Systems: SIP Trunks and VoIP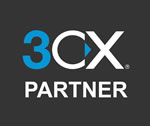 Voice over IP (VoIP) leverages the Internet for telephone service. Just like Comcast home or business phone service, or AT&T U-verse home phone service, voice is translated to a digital signal that goes out over the Internet. ITS can help optimize the network to prioritize voice traffic.
SIP Trunks
SIP (Session Initiation Protocol) trunks are the paths connecting a phone system with a telecommunication provider to make and receive phone calls.
SIP trunks are used with a compatible phone system like 3CX or FortiVoice and can drastically reduce phone costs. Monthly savings from 30% to as much as 80% is possible. SIP is typically billed per simultaneous call, for instance $24.99 per month per every two calls including unlimited calling.
Here are examples of actual client bill comparisons, not counting taxes and fees:
# Simultaneous
External Calls
Comparable Monthly Price for Voice (without taxes/fees)
SIP trunk
10
$124.95
Comcast
9
$244.60 (39.95 x first 3, plus 24.95 x 5)
Savings

saved $119.65

every month! (49%, plus one more call)
SIP trunk
16
$199.92
RCN
-
about $1280
Savings

saved about $1080

every month! (85%)
SIP trunk
6
$74.97
AT&T
5
$597.94 plus messaging and usage fees
Savings

saved $522.97

every month! (87%, plus one more call)
Our SIP trunk partner also includes free inbound fax-to-email (as a PDF), allowing for the elimination of fax lines and fax machines. And other features such as the free included web meeting/conferencing can eliminate other expenses.
SIP features from our partner include:
One free DID phone number per trunk
Free number porting (to keep your number)
Inbound Toll Free number (usage at $0.039 cents per minute)
Unlimited calling within the U.S., Canada and Puerto Rico
Instant upgrade or downgrade
Hosted Phone Service
A hosted phone system combines voice, data, PBX, long distance, and conferencing into one cost-effective communications solution.
By hosted we mean that there is a very low equipment footprint and inexpensive equipment costs compared to a traditional, modular "hang on the wall" PBX. The service and all features are maintained in the provider's network operations center, with only telephones installed in your office.
Because hosted services are generally billed per phone (per extension) instead of per call, they work well for very small companies but tend to be much more expensive for larger companies. ITS can help determine which is best for you. The same partner we use for SIP trunk service also provides their own hosted "cloud" phone system priced as low as $19.99 per extension per month.
Highlights of their service include:
Desktop and mobile apps
Buy or rent phones
Chat
Unlimited calling within the U.S., Canada and Puerto Rico
Unlimited call paths (no busy signals)