Domain Pointers
You can reserve a domain name and point it to any existing web site. For example, if you have an on-line clothing store you might have clothing.com and shirts.com also point to your web site. This is an excellent way to increase your visibility and bring more visitors to your site!
Domain Pointer Features
Redirect a domain to another domain, including files or subfolders
All e-mail forwarded to one mailbox at another domain, or
All e-mail forwarded to the same mailbox at another domain

that we host

(

bob@example.com

forwards to

bob@example.net

)*
When a domain is redirected a user who types in www.newdomain.com sees the URL change to www.domain2.com in the browser window. You can redirect to another domain, a subfolder (www.domain2.com/productname/), or even send visitors to a specific file (www.domain2.com/products/shirts.html).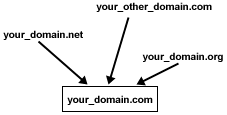 This plan is ideal for agents who have a pre-made web site as a subset of their company's site, but hesistate to give out the long address over the phone or on business cards. A great way to shorten long addresses!
If you would like to host multiple web sites with different content, or have many domain names to redirect, consider our Advanced Hosting plans.
* Note: e-mail forwarding depends on the target e-mail server not testing for SPF, DomainKeys/DKIM, etc., or else messages will be rejected. In addition, when forwarding the sending server considered the spam source. Therefore ITS does not support forwarding messages externally from our system.
$29 / year
$10 one time setup fee and 1 year minimum contract