Steve Yates / Principal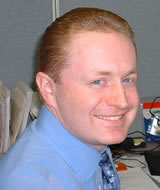 E-mail Steve
Second generation ITS. Web site programming experience includes PHP, ASP and Microsoft .Net with C#, VB.Net, VBScript, and JScript, and Perl. Also traditional web design elements such as HTML, JavaScript, CSS, and AJAX via programs such as Adobe Dreamweaver and Microsoft Visual Studio. Lead developer for our web site and several client sites, as well as the lead support engineer for our web site hosting services.
Desktop application development experience includes Borland Delphi (with database technologies from Paradox and dBase to various SQL servers) and Microsoft Access.
Experience with all major PC operating systems with multiple networking configurations.
Instrumental in editing and publishing our newsletter, The ITS Connection.
Steve started with ITS in 1994, became an owner in 2000, and is now the owner of the company.