TeleVantage Features

Vertical's award-winning TeleVantageŽ phone system includes the features you want to save money, improve productivity, and improve customer relations. Version 7 adds significant productivity enhancements and improved call center functionality!
Flexible, Standards Based Communications
The trend toward standards-based communications and the convergence of voice and data are revolutionizing the telecommunications industry. The open, standards-based architecture of TeleVantage provides significant advantages over proprietary phone systems.
TeleVantage runs on highly scalable, high-performance voice-processing hardware from Intel. Intel makes easy-to-administer converged communications solutions designed to enable development for companies the world over.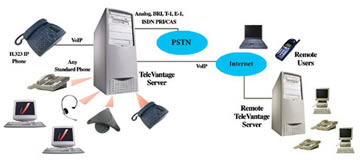 Because TeleVantage is software-based, you can upgrade your hardware infrastructure and adopt new configurations such as VoIP without incurring major expenses. With TeleVantage, installing new features is as seamless and simple as a software upgrade.
Open standards make integrating third-party business application software such as contact managers and CRM applications much easier. TeleVantage runs on Windows and resides on your LAN, just like any server. That means users and administrators can interface with the telephone system from their desktop PCs, e-mail clients, Web browsers, and contact management applications.
The Smartest Investment You'll Make for Your Business
TeleVantage provides the comprehensive, advanced features you need to run your business today while preserving your investment for the future:
TeleVantage Saves You Money
There's no need to purchase expensive proprietary handsets or pay extra for voice mail or unified messaging. With TeleVantage, you can easily expand the system without expensive upgrades. No other phone system provides as much value at a price that's right for growing businesses.
TeleVantage Keeps Your Options Open
TeleVantage positions your company for the future. With TeleVantage, you have the flexibility to embrace new technologies and evolve your phone system at your own pace. You can adopt new configurations like Voice-over-IP, add powerful call center functionality to drive revenues, and roll out the system to multiple sites with ease, all at the pace that's right for your business. And you can integrate your phone system with other business applications without incurring major expenses.
TeleVantage Stands the Test of Time
TeleVantage makes it easy to ensure that your phone system technology stays current. In fact, the value of your investment in TeleVantage grows over time. Renewing TeleVantage to keep current with technology is as simple and cost-effective as a software upgrade.
TeleVantage Gives Your Company a Competitive Edge
An easy-to-use Windows-based interface makes every member of your organization more productive. Manage your calls and messages through your desktop PC, where you answer, forward, transfer or screen your calls with the click of a button. Play voice messages in any order you choose, so that you spend your time on business-building objectives rather than administrative tasks. TeleVantage gives you complete control over your accessibility, your messages, and your time. TeleVantage lets everyone enjoy the benefits of higher productivity.
TeleVantage can also be your key to better customer service. It's not just another phone system, it's a strategic asset that enables you to set yourself apart from the competition. Create powerful customer interactions and give your customers personal attention quickly and easily.
Let TeleVantage Show You the Difference
TeleVantage gives you all the features you need, plus unmatched ease of use and flexibility. At the same time, TeleVantage improves your bottom line. You get the best of today's communications technology while you ensure your ability to profit from future advancements in technology. Only one telephone system offers you so many advantages. Find out why TeleVantage is the world's most intelligent phone system.
Find out why TeleVantage is the world's most intelligent phone system.