TeleVantage Enterprise Manager
TeleVantage Enterprise Manager is a powerful module that unites employees across an entire organization seamlessly, so they can communicate as if they were located in the same building with a single telephone system. Customers can connect to employees across the organization transparently without needing to know their location. Businesses can simplify management and reduce the administrative costs of their phone system. TeleVantage Enterprise Manager is an ideal solution for businesses that need to support communications among distributed, multi-site locations.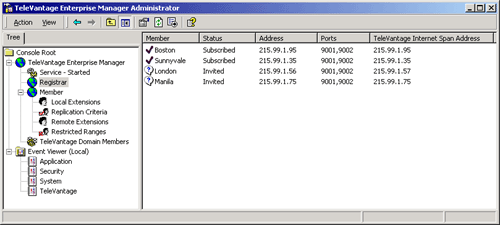 Unified System
TeleVantage Enterprise Manager allows employees across an entire organization to communicate as if they were in the same building. TeleVantage Enterprise Manager presents a single extension list for all TeleVantage servers no matter where they are located geographically. Users simply dial an extension to reach any other user - no need to remember access codes to make calls to remote locations. With TeleVantage ViewPoint, employees in one location can see the availability of their colleagues no matter where they are located. And TeleVantage Enterprise Manager transparently forwards voice messages across servers for delivery to each user's home inbox for easy retrieval. Routing and VIP rules are also distributed across all servers - no matter which TeleVantage Server initially takes the call - so important contacts and customers, as well as special call campaigns with PINs, are identified and handled appropriately.
Simplified Administration
TeleVantage Enterprise Manager facilitates multi-site organizations - supporting more TeleVantage servers and extensions, and eliminating repetitive manual administrative tasks. Utilizing a peer-to-peer architecture, Enterprise Manager automates the configuration and ongoing management tasks that keep all systems synchronized.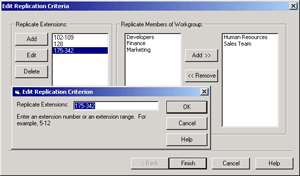 When you add a TeleVantage server to the network, TeleVantage Enterprise Manager creates all the required TeleVantage components automatically. Enterprise Manager informs each TeleVantage server of the presence of other servers and establishes connections between them, creating a uniform dial plan for users, queues, auto attendants, IVRs, and other desired extensions.
Additions, changes, and deletions are copied to all servers as changes are made. With a point and click, you can control which information is copied across the network, and which stays local to a specific server.
Benefits to your organization
Here are examples of how TeleVantage Enterprise Manager can benefit your business:
Use ViewPoint to see hook state and status of a remote user just as if they were down the hall. This saves time and allows receptionists to best handle calls for remote users.
Create company-wide distribution lists for voice mail and simultaneous ring group applications.
Single-point access to create and manage your TeleVantage domain. Point and click to add or remove TeleVantage servers from the domain. With remote management software, perform administrative tasks for all of the TeleVantage servers in the domain from one location.
Save administrative overhead. Dial plan changes and extension moves, adds, and changes are automatically propagated throughout the domain. Control when updates are processed to maintain peak TeleVantage server performance.
Eliminate the need to manually enter another extension or user name by optionally importing and synchronizing users from Microsoft Active Directory.
Enable offices to continue to function even if intra-office networks are interrupted, or if an individual location loses power.
Camp on busy remote extensions just as if they were local.
Create centralized IVR applications that are accessed by callers that call into any office.