What Is Search Engine Optimization (SEO)?
With over 156 million active web sites in the world, how will customers ever find yours? By correctly implementing Search Engine Optimization (SEO), your web site will rank higher on web searches most relevant to your business. Several studies have shown that the majority of users review only the first or second page of search results before trying different search words, so in our search engine-dominated world, it is vital your site ranks high on search engine result pages.
SEO combines technique and strategy to improve a web site's search engine rankings. While results cannot be guaranteed (only one web site in the world can be #1, and it can take a little while for search engines to notice changes), proper application of SEO will make it easier for people to find your web site.
With this article, ITS would also like to introduce our own SEO consulting service, which provides a detailed action plan for a web site, at a reasonable fixed price. Let our expertise help your site achieve higher search engine rankings and thus more traffic and sales.
Organic vs. Paid Search Results
"Organic" search results are the results that display below "sponsored" links or are on the left hand side of the search results page. In many cases, these listings are actually much more likely to be clicked on than the sponsored results or sponsored ads. SEO attempts to optimize your web site for best inclusion and rank in the organic search results for your targeted keywords in search engines such as Google and Yahoo!, by using best practices in site design, content, and structure.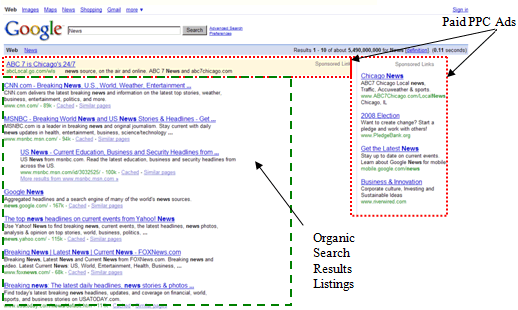 By contrast, pay-per-click (PPC) keywords involve paying a search engine for clicks from ads in the right hand column of the search results on Google or Yahoo. This can be a fast way to generate site traffic, but it can also be expensive. Paid search usually takes some time and tweaking to find the best keywords that will convert to sales most often, compared to their cost, since common keywords are heavily in demand and therefore expensive. PPC tends to work better for highly targeted industry keywords, temporary/seasonal promotions where results are needed quickly, or larger marketing budgets that can accommodate a daily spend of $50.00 or more for an extended period of time.
Great Basic SEO Tips
While SEO encompasses many techniques, here are some basic ones for do-it-yourselfers to work on:
Sites friendly toward humans (navigation, headings, content) are more easily optimized for search engines
Use (and re-use) text and phrases users are likely to type into search engines, but don't overstuff keywords
Add one page per topic for more focused search results
Sites that update content frequently will tend to be indexed more frequently and enjoy higher rankings
Links from other, reputable sites will tend to enhance your site's ranking
Create a sitemap and upload it using Google's webmaster tools to make sure they are crawling all the pages on your site and not missing anything
Getting Help With SEO
SEO consulting is generally offered as a one time site analysis and action plan, and/or on an ongoing optimization basis. A one time analysis will provide a list of actionable changes that, if made to your site, will help search engines crawl, index, and list your site higher in their rankings. There are SEO best practices that ITS uses to evaluate sites and recommend changes, but no specific placement within a search engine results page is ever guaranteed. An ongoing optimization process is better for larger sites that have continuing competition from other sites that perform SEO regularly, and update content often with new products or articles. This monthly analysis and best practice use while building the site is the long term solution for most mid-sized businesses.
Warning: Do Not Taunt Happy Fun Search Engine!
When choosing an SEO consultant, make sure they will not resort to "black hat" techniques such as stuffing a web page with hidden keywords, pointing dozens of link farm domains to the same web site, buying links, or spamming hundreds of blogs with links to your site. Be wary of SEO "experts" that guarantee specific results. If a search engine (Google) detects an attempt to trick its system, it will typically just drop or ban a web site from its database altogether, which is the worst case scenario.
Instead, choose an SEO expert who is transparent about the techniques they will use on your web site. Any mystery techniques should be viewed with caution.
February 2008
Send this article to a friend!
Subscribe to The ITS Connection
Related content