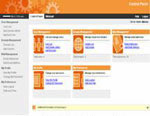 CPX is a powerful control panel that provides an intuitive web interface to administer your VPS or MPS account. Many of the day-to-day account management tasks can now be performed through CPX. In addition to user and domain management, CPX also offers an enhanced web-based e-mail interface and mail management modules.
One of the key benefits of CPX is how it empowers Virtual Subhosting on VPS and MPS accounts. CPX was designed in a tiered model giving you the ability to create domain administrators with end user management control. This allows each subhost and its respective end users the ability to setup and control their own accounts.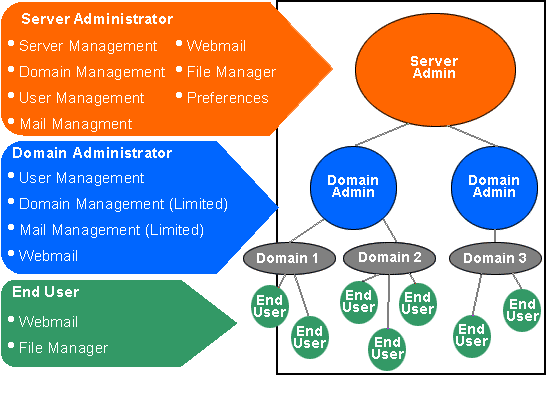 See the instructions on installing the CPX Control Panel.
Features
File Management
The file management module allows you to navigate through directories, view and edit text files, download and upload files, create or delete files and directories, rename or move files and directories, and view and edit permissions.
Webmail
A full-featured e-mail management interface to read, store and compose e-mail, manage folders, apply spam filters, store contact information, and manage autoresponders.
User Management
The user management module allows you to add or delete users, manage domain admin accounts, and view the status of user accounts.
Domain Management
Manage your domains easily with the ability to add or delete subhosts, set limits on the number of users and e-mail accounts, manage logs, and setup catchall e-mail rules. A Domain Administrator can set up new users and e-mail addresses for the domain(s) under his/her control, and upload content to the web site.
Mail Management
This module provides the management of e-mail so you can easily add or delete e-mail aliases, edit account settings, or even set up broadcast lists.
Profile and Preferences
Customize your settings to your personal preferences. Change your password, shell, and the date/time display for your account.
Online Help System
An online help system provides context-sensitive help for each screen of the control panel.
File System Configuration
Item
File Location
Default web content
/www/htdocs
Users' home directory
/home/userid
Virtual hosts (under Domain Admin)
/home/user1/www/example.com
/home/user1/www/example.net
/home/user2/www/example.org
Path when user2 connects via FTP to upload content
/www/example.org
Please note: the information on this page applies to ITS web hosting plans. It may or may not apply to other environments. If you are looking for a feature described here, or better support from your hosting provider, please consider hosting your site with ITS!
1555 N Naperville/Wheaton Road, Suite 107
Naperville, IL 60563
phone 630.420.2550
fax 630.420.2771